Becoming Nature: Yiling Changues
Roark's Tahitian Artist in Residence
Often times, our vision of art from the South Pacific is shaped or painted by an outsider. Names like Gauguin — practically synonymous with Tahitian painting — come to mind, and although dreamy and full of color…the perspective isn't necessarily an authentic portrait of life in the islands. Local Tahitian artists, however, like Yiling Changues, are shifting this perspective. Returning to her home island after some time living and studying in Paris, the young artist is energized by the blossoming scene in Tahiti and even has an exhibition showing later this year.
"I realized that when I was living in Paris, we were always wondering where in nature we'd want to visit on holidays outside of the city," says Yiling. "It was like we were just waiting to leave the city to go into nature. And living here, in Tahiti, it feels like this is the way it should be. So, in my work I'm trying to say that we are almost becoming nature — and nature is becoming us. There's a constant blending."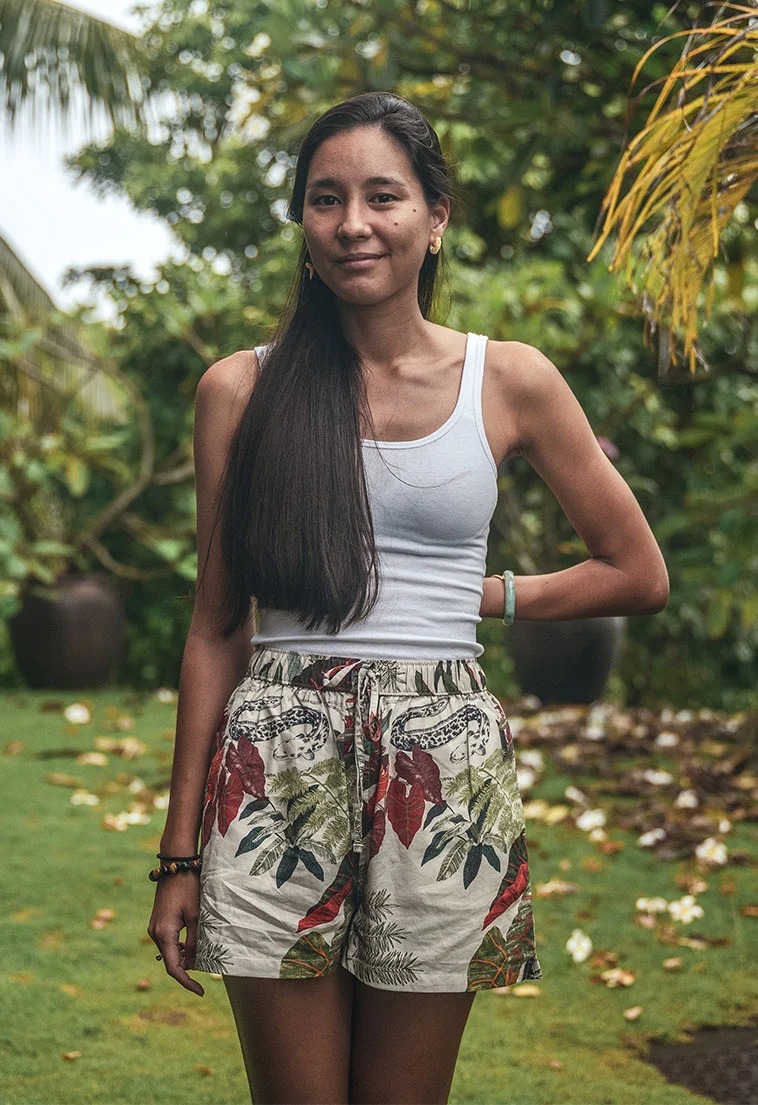 Meet Yiling Changues
Artist in Residence
We had the pleasure of collaborating with the brilliant Yiling Changues on a very special capsule evoking her island home. From her studio in the mountains above Papeete, she talked us through process and the current artistic paradigm shift.
How's the art scene in Tahiti?
Yiling Changues: I've only been back home for a little over a year, but it definitely seems like in the last 15 years there's been a big boom for local artists. Before that, it was mostly people from the outside doing art here. Like, they'd come and they loved the light so they wanted to paint some landscapes and some fruits and some girls [laughs]. So, now it's really more recently that young generations want to reclaim their culture. There were so many people and artists that left the islands and learned new techniques and perspectives on art, and they want to bring that back here. Which is great.
The boom in the art community here is so recent, tough, that we can do anything we want. We can experiment and encourage artists to try new stuff and own their work and own their culture and creativity. It's very inspiring for me since being back. It's like, beyond what art in the South Pacific was known as — modern art can be something different. Sure, there's street art and murals, but also so much more, and that's what I try to convey with my own work.
Amazing. It feels that way in the pieces you did. Talk us through some of them and where those ideas came from…
So, less traditional and a little more modern is what I wanted to bring to the collaboration with Roark. For me, designing these patterns is a tool and way to talk about Tahitian culture in a more modern kind of way. With these boardshorts, for example, I really love to bring human-like shapes to nature because in Tahiti we are always surrounded by nature and we belong to it — not the other way around.
That's an awesome perspective.Yes, I realized this when I was living in Paris because we were always wondering where in nature we'd want to visit on holidays outside of the city. Where are we going, which place, which forest? it was like we were just waiting to leave the city to go into nature. And living here, in Tahiti, it feels like this is the way it should be. So, in my work I'm trying to say that we are almost becoming nature — and nature is becoming us. There's a constant blending. I love the presence of animals in my designs, though, because they were here before us. We are coming into their space. Maybe in an eel's space, we should live like an eel — not try to separate it from our space because we're afraid of it.
Totally. And some of these scenes you created definitely don't look like the canned "portrait of paradise," no?
Yeah. I think that, normally, people create these dreamy, sunny images of Tahiti with lagoons and clear skies, perfect weather…but I actually love the misty, foggier, darker places in the valleys and mountains. So, that's what I was trying to evoke on some of the pieces. These places and mistier sides of the island are our home, too, and very special.
For sure. What other ways were you evoking some deeper layers of your culture here in some of these designs?
Well, one of the designs has to do with Lake Vaihiria and the legend of the coconut tree. It's a pretty well-known story here. There was a princess named Hina and she was very beautiful and she was supposed to marry the prince of Lake Vaihiria. But.. she discovered that the prince was a giant eel so she ran away. She asked for some help from the demi god Maui, who killed the eel and cut its head off. Right before that, though, the prince said that one day you will kiss me. But Maui took the head, gave it to Hina, and told her to plant it in her garden because it holds great treasures, just don't leave the head on the ground. Of course, she forgot, took a swim and the ground swallowed the head. It sprouted a coconut tree and she would drank from the fruit — essentially kissing the eel like the prince had said. Those three dots on a coconut are the eyes and mouth. So, this art is like an interpretation of this legend. I think it turned out great, too.

This season as part of our Safecamp Foundation Initiative, we'll be donating a portion of all proceeds from her collection to the non-profit Tamarii no te Moana, an organization that Yiling is working with, aiding in coral restoration throughout the islands.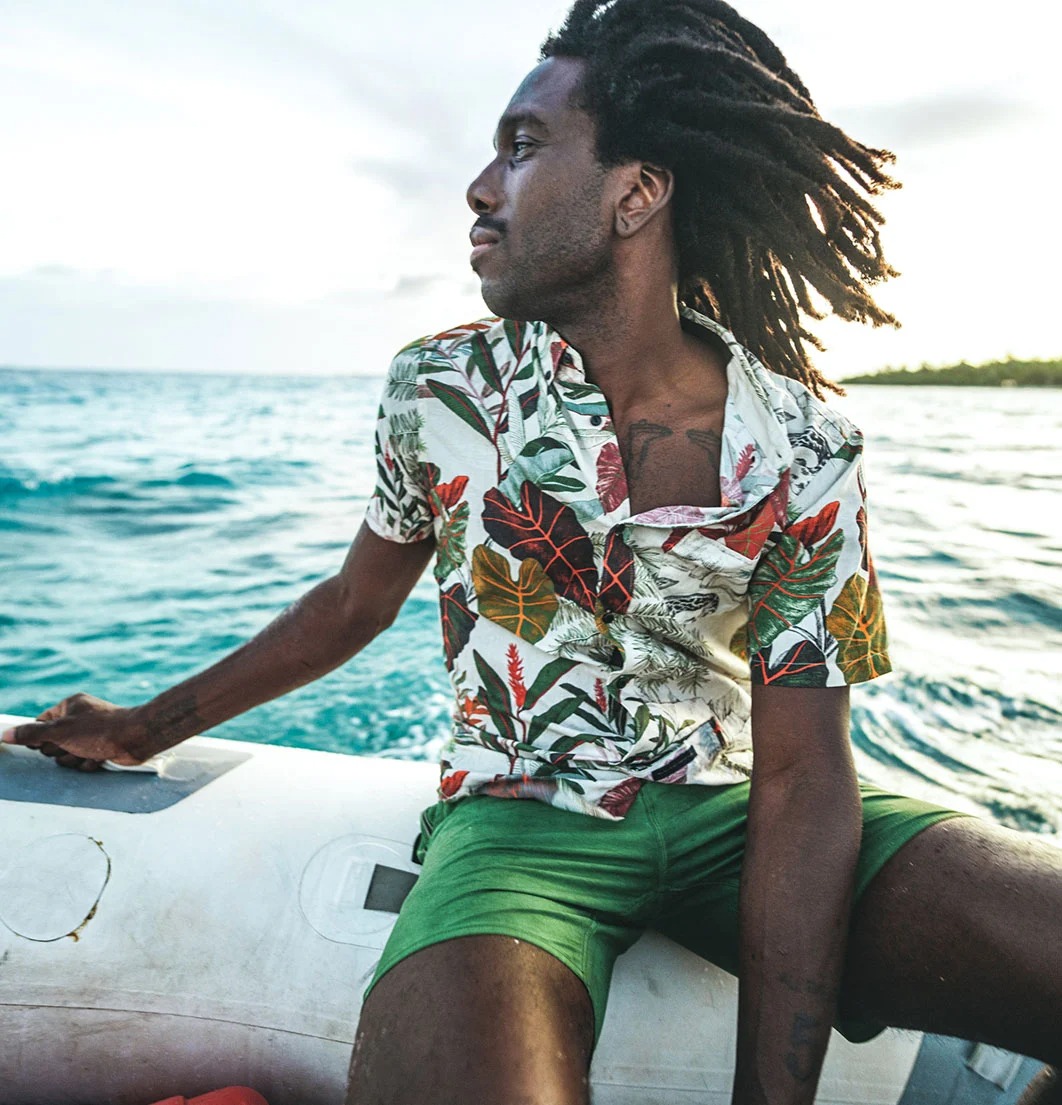 Scholar Button Down Collar Shirt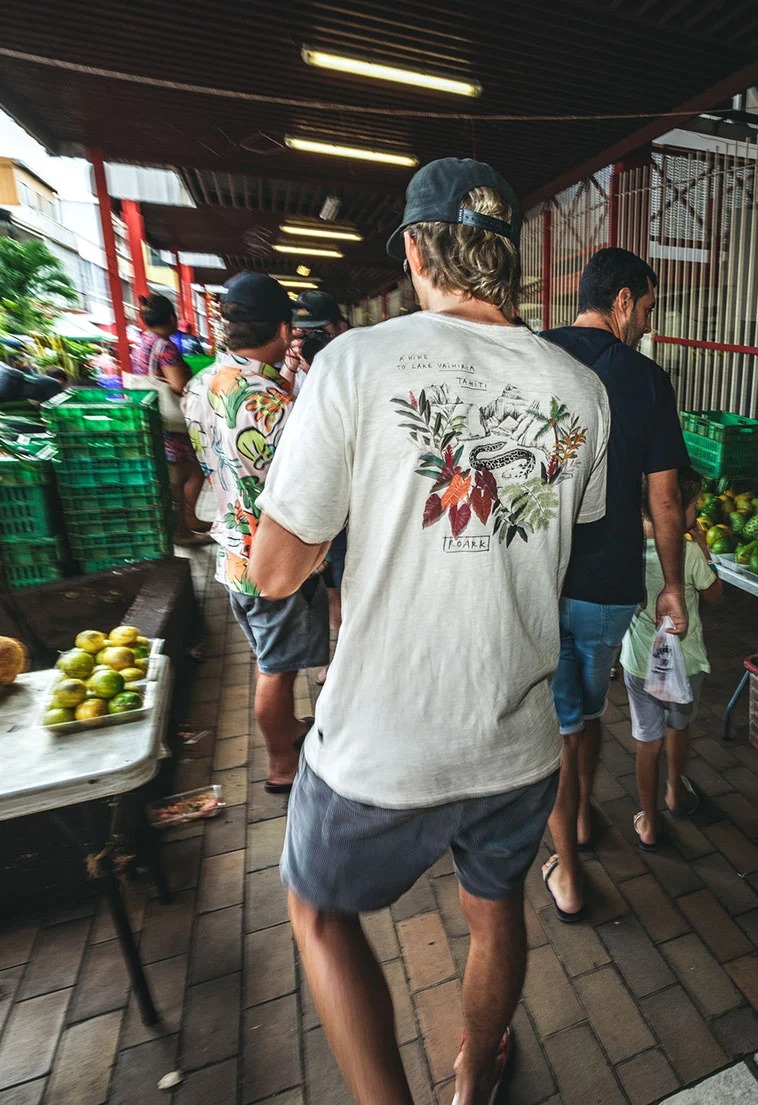 Take a Hike Organic Cotton Tee
Shop The Yiling Changues Collection