Sunda Sabbatical
A recalibrating stint a world away from the frenetic mainland
Somewhere in the Sunda Strait off the coast of West Java, the legendary caldera of Krakatoa looming in the distance, Muz announces to us all that there were two rules aboard the Just Dreaming: No shoes on the boat, and don't use the onboard bathroom. Ivah and Parker glance at each other like, So, we shit where… exactly? And as if clairvoyant, Muz gestures behind him. "Comes out easier and leaves you cleaner if you go in the ocean, mate!"
Light years away from the chaos of mainland Java was the gang's destination, our hopes and excitement palpable, audible, even, in the music of our voices; in the dance within our movements about the deck. Rod clicked on Gregory Issacs from the hanging portable speaker and the eight of us (Vez, Rod, Ivah, Nate, Parker, JB, AVG and I) tune into that feeling you get—a high, reallyon the first few days of surf charter headed toward perfect waves, literally as far as you can travel away from home. If they could put that feeling in a pill...
Oh, and there was one more rule actually: if any of us surfed a certain savagely shallow left-hander at the top of the bay, a full suit and helmet were mandatory, (non-negotiable), added Muz. A Kiwi based in Bali that owns a few restaurants and this charter, Muz has been coming to this uninhabited island off Ujung Kulon National Park to surf and dive for the last twelve seasons. A genuine man's man, Muz loves his hawg back on Bali, speaking of his Harley like it was a wife. He sits with legs spread wide open and has tales from half a lifetime lived as an expat in Indo that would make a convict blush.
Sailing through a peach colored evening, Bintang cans crushing in the compactor like clockwork every 30 seconds, Muz reckons that with the complexion of the swell, a left called Napalms should be cracking tomorrow morning when we arrive. Parker, Ivah, and Nate are already unzipping their boardbags to unearth freshies, running their hands down the length of those polyurethane curves. The captain's call would in fact be quite right...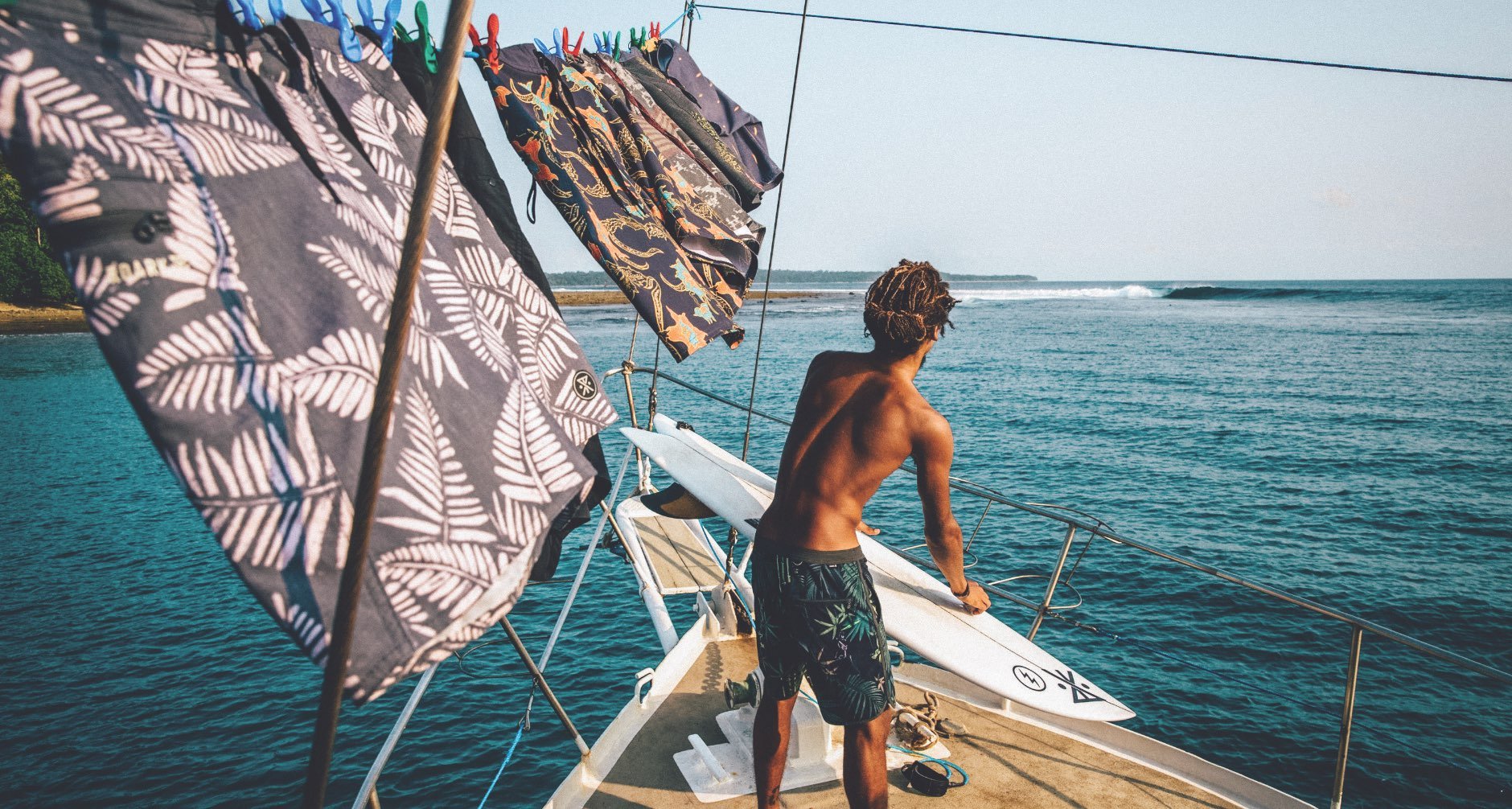 "How bad is it?"
I ask Nate, craning my head around, surely, a mantra uttered by those before us who've surfed this razor-sharp patch of reef. I'd just rolled over near-dry coral heads trying to shoot the miragey end bowl. Looking down at the deck of my board in the channel, rivulets of blood dissipate in the translucent sea, but I realize it's just from scrapes on my wrists.
"You're good, but I don't think stitches," says Nate, prodding at my spine. "Let's get a couple more before the tide gets too low?" I nod like, got nothing else to do, and we paddle back out, our second of three sessions that day (of four days in a row) at the empty hollow left-hander called Napalms.
I mean, there've been a few other left-handers down the bay we've sampled, even a nearly unmakeable right that Nate made look appetizing, but Napalms during this swell continually delivered tubes for all of us. When the tide got too low and reef broke surface, we'd motor around the point to find dive spots and jump cliffs. Vez, Muz, Rod and Captain Ismanto would suit up and bring home dinner (fish), apparently a diminishing resource out here, even off the shores of a protected UNESCO World Heritage island. So much so, that Captain Ismanto, an East Javan local with a couple wives, told us of a story where, while spearfishing off a reef shelf near the national park, he came up for air to see a giant black panther who'd wandered in from the jungle looking for fish in the tide pools right in front of him. It was something he'd never seen, nor heard of before—proof of a fast-changing climate. Diving behind him, though its an inspiration. In this currently overfished region of waters, he is selective, precise, only going for specific fish he knows are not nearly depleted…and never misses a shot.