No more surf. No more surfing. Time for a bit of respite in the dirt.
A half night's sleep in a Grand Canyon carpark precipitated a vertigo inducing leg-hang off its sheer cliffs at sunrise.
Five hours later, Ivah Wilmont and I rolled the Texino across the Arizona border and into a dirt lot somewhere near Gallup, New Mexico. There to greet us was a rag-tag group of friends who'd just finished a horse-packing trip along the Continental Divide Trail. Clad in the new Wrangler x Roark collection, Dylan Gordon, Drew Smith and Max Robinson looked as though they'd weathered the extremes and came out ok – their wind burned cheeks were offset by happy smiles. After we got the fire going and cracked a couple of beers, the story of their journey unravelled with wide-eyed excitement.
I imagined the winding and windy trails along exposed cliff faces. The tucked away aspen groves with leaves yellow and dropping. The frigid creeks and streams where they'd swam and watered the horses. Dylan and Gillian Larson (Gillian had already parted ways with the crew), were the hard-tailed riders of the group, tasked with the extra responsibility of the horses' wellbeing. There was Badger and Ricky, Dylan's brown geldings, and Gillian's herd, which included Zahra, the black Arabian, Takoda, the sorrel quarter, Newt, the gelding with the white face, and Karlee, the grey mule. It was agreed that understanding a horse's particular personality was key to enjoying the experience of riding it, and apparently this put Drew and Max at a significant disadvantage. I felt (a little) bad for laughing every time one of them groaned as they reached for another beer. Fortunately, the beer drowned out the worst of their aches and pains and the stories continued. Drew pointed out how involved horse-packing was, even for a relatively short journey, and this brought into question the lengths Gillian must have gone to, to have ridden over 10,000 backcountry miles. Her three journeys from Mexico to Canada on horseback gave new meaning to the notion of getting unplugged and out of range.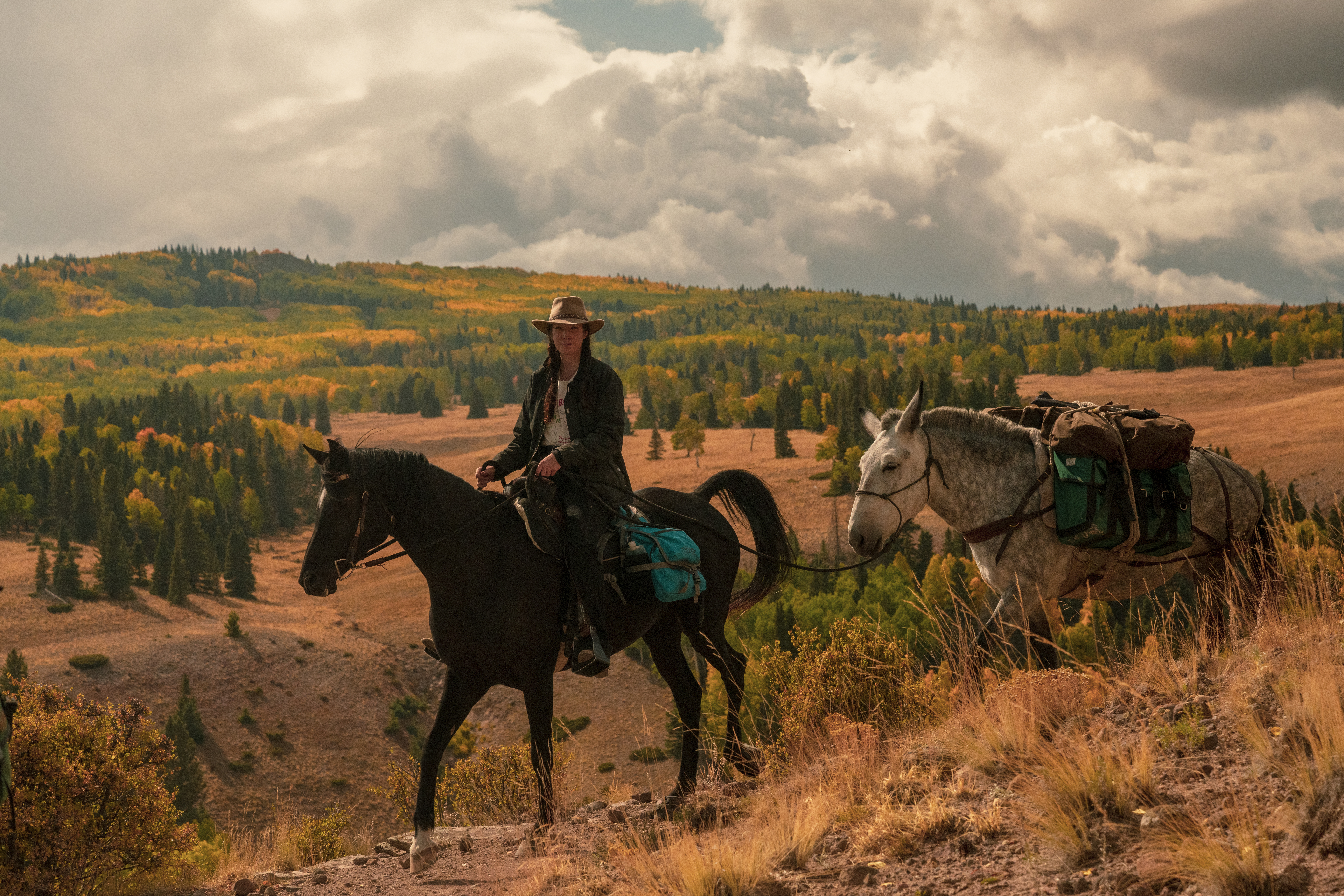 Over the next few days
We ripped through high hills and low valleys, finding trails that looped and trails that led to nowhere.
Desert riding is a mix of wide n' open, and tight n' technical, so while some stretches were more of a thrill, others were a challenge. For Ivah, everything was new – it was his very first experience of riding. He took a few tumbles, but so did we all. We roamed rocky crags and loamy creek beds by day and revelled in the simplicity of the campsite by night. Removed, albeit temporarily, from the stresses of our day-to-day lives, we put time into the small things, like tending the fire for a cook-up, or reminiscing on past experiences and lessons learned. Time away with friends, and time riding, that's time well spent. Whether we do it on four legs or two wheels, for ten weeks or ten days, getting out of range, unplugged, that's our answer to the ordinary.